The company Dorinka Ltd. was established in June the 2nd, 2007. The aim was to offer the restaurant services as soon as possible and further the possibility of an accommodation. It was managed quite soon and the restaurant with a parlour and a Flower room were opened in May the 15th, 2008. The public appreciated the possibility of outside sitting in the garden in front of the hotel. The accommodation was available since the middle of October in 14 rooms with the capacity of 43 beds. In the spring 2012, the whole capacity of the hotel was enlarged by renovation of the suites and thus offers accommodation for 54 people.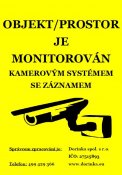 The building of a City Hotel Dorinka is monitored by a camera system to record.
 Purpose of processing: the protection of the property and property from theft and vandalism, personal protection, crime prevention, detect intruders on the site after closing time.
 Scope of data processing: video recording camera system
 Identification administrator: Dorinka spol. s r.o., ID 27515893, Náměstí 67 Hostinné, Reg.No. 00052993, phone +420 499 429 366, e-mail: info@dorinka.eu 
 Location: Hostinné (Náměstí 67, Náměstí 68, Horní Brána 237)